WRJA owns an estimated 2,000 acres of pristine forest designated as watershed spanning Berks and Lebanon Counties. Most of our land is open for restricted recreational day use (see our land use rules below) with the exception of our 35-acre farm and maintenance barn located on S. Sheridan Road near Newmanstown (Lebanon County). This property is clearly posted "No Trespassing" and is completely closed to public access. In addition, several boundary line 'No Crossover' points exist. No Crossover points are clearly marked with 'No Trespass" signs. Property-line Crossover, including game retrieval, is prohibited at posted locations.
​
Effective January 2021 the WRJA Board of Directors adopted a detailed land use policy to help ensure the survival of the forest for generations to come.
​
Tampering with a public water system is a Federal Offense.
Federal Statute (42 U.S.C. 300i-1)
Pennsylvania Statute (35 P.S 721.13 (j) (1)
But..
I'm on WRJA Land, Right?
While enjoying WRJA watershed you may encounter 'No Trespassing' signage on or near property lines. Please respect our neighboring land owners right to close their land to public access and obey no trespassing signs.
​
Be alert for dead end trails. This unneighborly situation occurs at property lines when property owners create 'private trails' to access our land for their personal use but deny other WRJA land users access across their land. A dead end trail usually terminates at a property line posted with a no trespassing sign.
​
What Should I Do?




I'm on WRJA land but I was told I am trespassing!
If confronted and told you are trespassing it is best to leave the area as requested (even if you believe you are on public access WRJA land).
​
If safe to do so (do not challenge or provoke):
- Ask the persons name and/or property owners name
- Aquire and save your current GPS coordinates (Lat/Long)
​
​
Report encounters using our LAND USE VIOLATION link.
WRJA will investigate.
Recreational
Land Use Rules
NO TRESPASSING - Sunset to Sunrise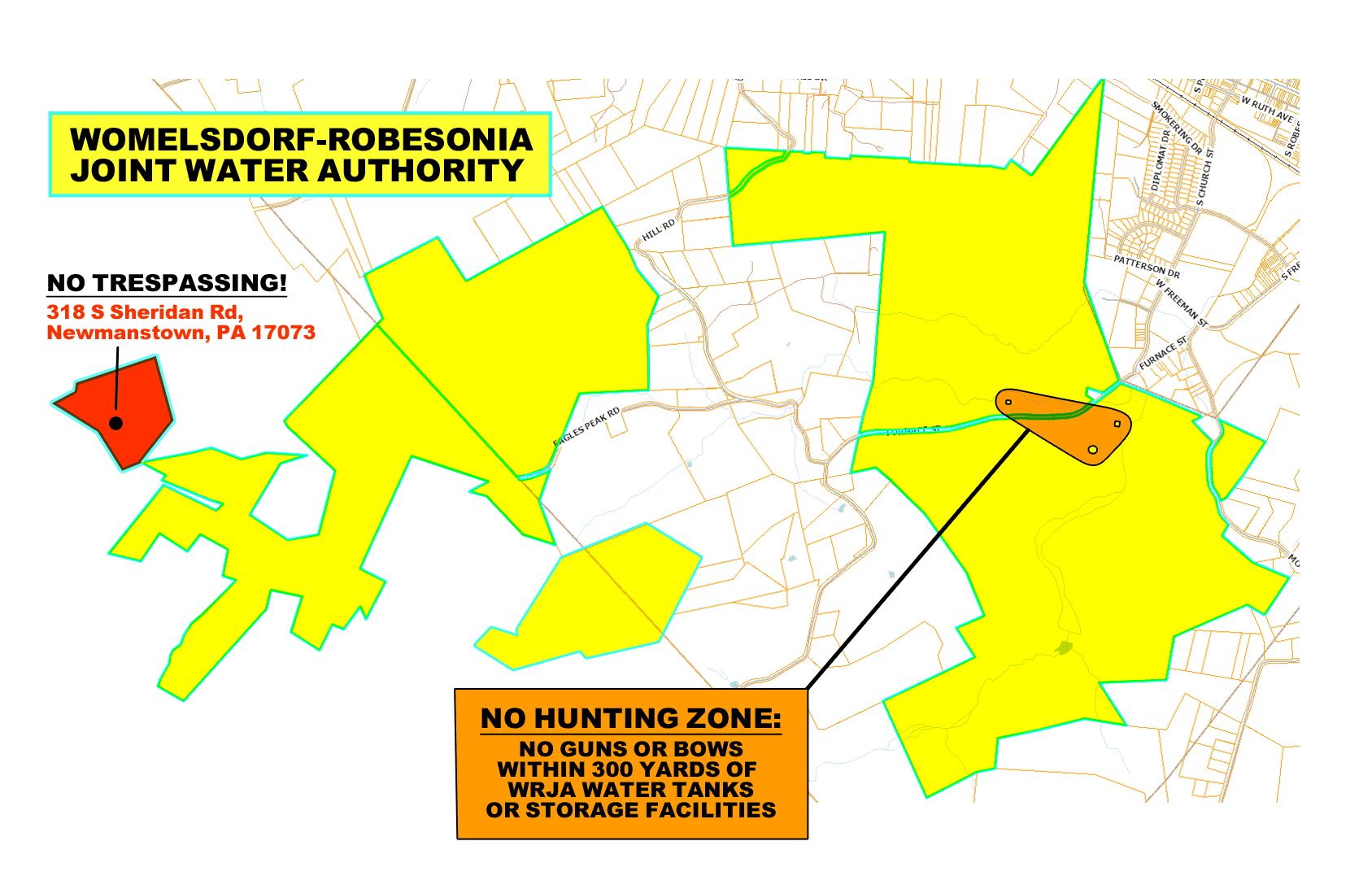 Texter Mt. Road Access - George W. Wertz, Tract
Accessing from William Penn State Forest
Unlike William Penn Forest (Commonwealth of Pennsylvania) - WRJA is a privately owned and protected watershed that is part of the WRJA public water system. When visiting WRJA watershed please note that our mission and land use rules are different from Willam Penn State Forest.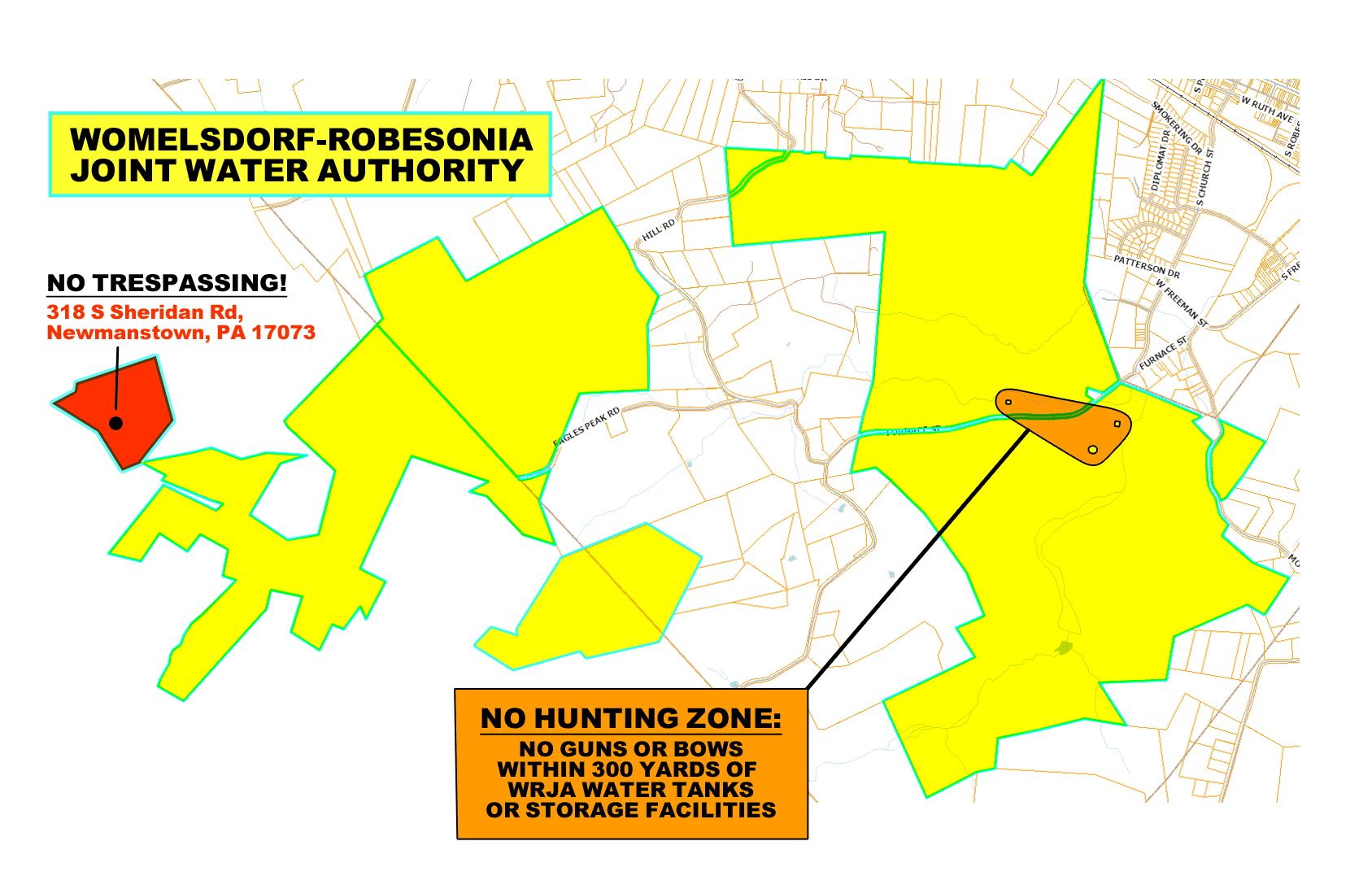 William Penn State Forest
ALL MOTORIZED VEHICLES including motorcycles, ATV's, UTV's, snowmobiles, etc.are PROHIBITED.
Note: electric power bicycles are motorized vehicles and prohibited.
​
NOTICE: Operators of motorized vehicles are subject to criminal prosecution. TRESPASS BY MOTOR VEHICLE PROSECUTED under 75 Pa.C.S. § 3717 (Pennsylvania Vehicle Code)
Exemption: Vehicles operated by WRJA and our contractors, Law Enforcement, EMS, Fire, and power company service vehicles.
ALL Fishing regulations apply on WRJA land and enforced by the Pennsylvania Fish & Boat Commission.
ALL Game regulations apply on WRJA land and enforced by the Pennsylvania Game Commission.
Please view our new tree stand policy that became effective January 01, 2021.
To report information, call the Operation Game Thief's toll-free hotline – 24 hours a day, seven days a week, 365 days a year – at 1-888-PGC-8001 or

click here to fill out an online form

.
WRJA Land in Berks County SELECT: 216 - Heidelberg Twp.
WRJA Land in Lebanon County SELECT: 206 - Millcreek Twp.
Forest
Management
We continue to implement our long-term forestry management program and its enhancement of our area's ecology. A tangible benefit of the program is it's generation of revenue through biennial timber sales. The Authority has earned total net revenue over the past thirty years of approximately $1,200,000, enabling us to minimize the need for rate increases (the last of which was over twelve years ago).

Our next harvest is scheduled to start spring of 2022 and run through December 2023.
HELP US PROTECT THE WATERSHED
REPORT
Land Use Violations
Use this form to report violations of our land use policy and encroachments.


- land use violations ONLY -



For water service issues - CALL US.

To report tampering or damage (in progress) to water tanks, pump houses, chlorination stations, transmission lines - CALL 911
In Berks County - South Heidelberg Township Police Dept.
In Lebanon County - Millcreek Township Police Dept.