Our Land
WRJA owns an estimated 2,000 acres of pristine forest designated as watershed spanning Berks and Lebanon Counties. All of our land is open for recreational use with the exception of our 35-acre farm and maintenance barn located on Sheridan Road near Newmanstown. This property is clearly posted 'No Trespassing' and is completely closed to public access.
Effective January 2021 the WRJA Board of Directors adopted a detailed land use policy to help ensure the survival of the forest for generations to come. Questions regarding use of our land should be directed to Mark Spotts, WRJA Board Member.
- Help us protect the Watershed by reporting land use violations -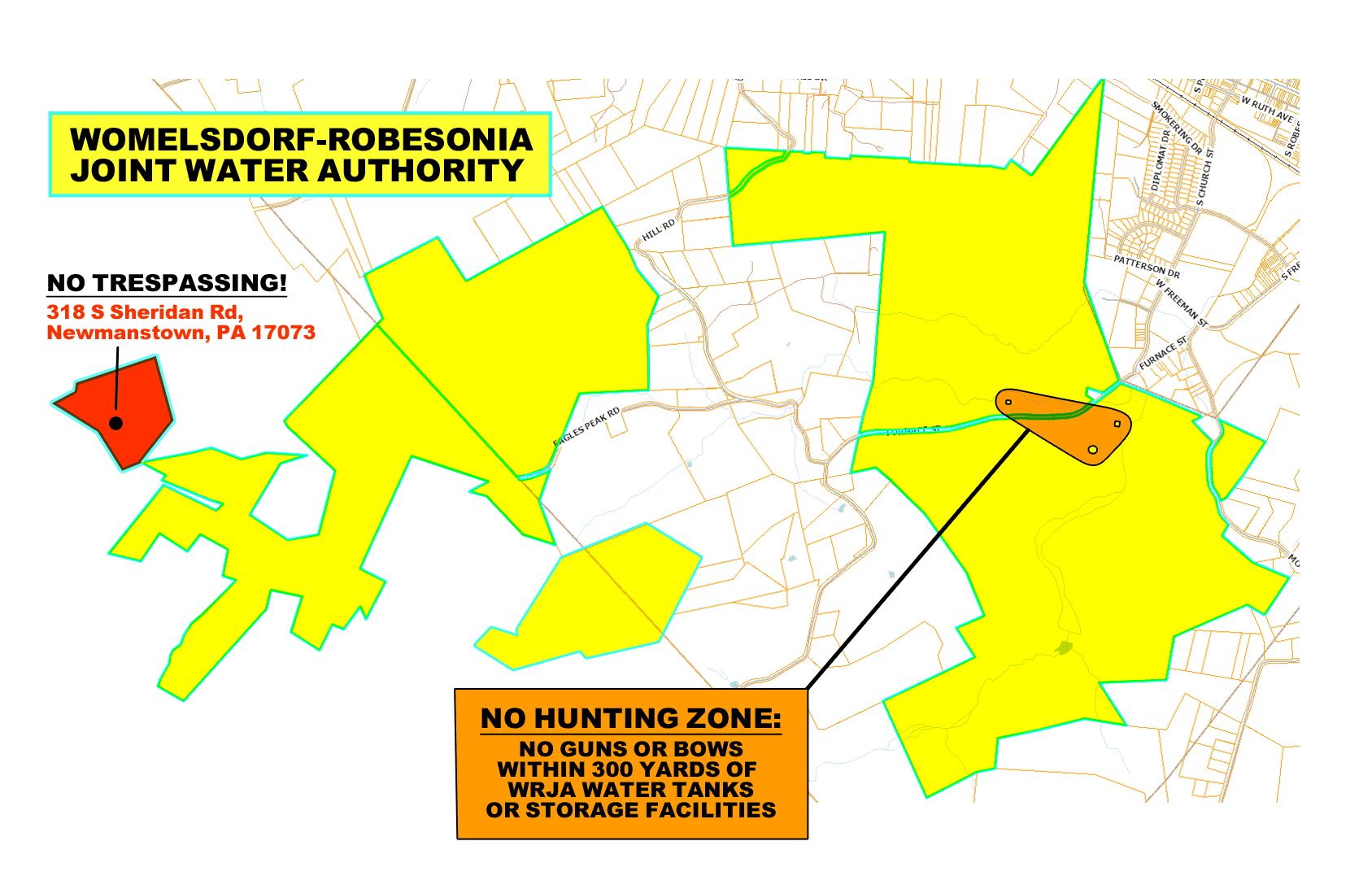 Motorized Vehicles Prohibited
ALL MOTORIZED VEHICLES including motorcycles, ATV's, UTV's, snowmobiles, etc.are prohibited on WRJA property. Note: electric power bicycles are motorized vehicles and prohibited.
​
NOTICE: Operators of motorized vehicles are subject to criminal prosecution. TRESPASS BY MOTOR VEHICLE PROSECUTED under 75 Pa.C.S. § 3717 (Pennsylvania Vehicle Code)
Exemption: Vehicles operated by WRJA and our contractors, Law Enforcement, EMS & Fire.
ALL Game regulations apply on WRJA land and enforced by the Pennsylvania Game Commission.
To report information, call the Operation Game Thief's toll-free hotline – 24 hours a day, seven days a week, 365 days a year – at 1-888-PGC-8001 or

click here to fill out an online form

.
WRJA Land in Berks County SELECT: 216 - Heidelberg Twp.
WRJA Land in Lebanon County SELECT: 206 - Millcreek Twp.
ALL Fishing regulations apply on WRJA land and enforced by the Pennsylvania Fish & Boat Commission.
HELP US PROTECT THE WATERSHED
REPORT
Land Use Violations